About Us
We are divers. Our travels around the world made us fall in love with the ocean and diving. We left our jobs and the security of home to follow our dreams of working in the Cayman Islands diving industry. Before settling in the Cayman, we were lucky enough to work all over the world with some of the best dive professionals, and dive teams in the industry. Throughout our journeys we began to notice what separated a good dive operation from a great one. Our goal was to create a unique experience for our guests that is value added and personal with the best equipment and crew. We incorporated all that we have learned along the way and Living The Dream Divers was born
We have combined our ingrained passion for the ocean, conservation, customer service, attention to detail, and love of Cayman Islands diving to provide the best experience for our customers.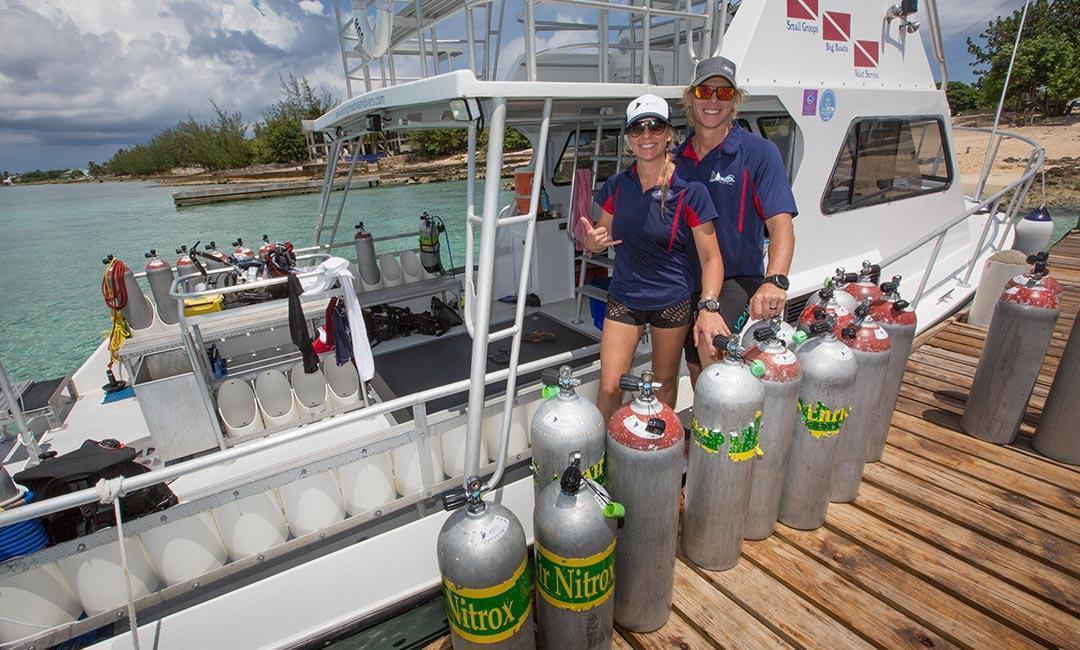 The Caymans offer a lot of choices for people wanting to enjoy the water. Our service is flexible, friendly, safe, and fun for anyone to enjoy – no matter what your level of experience. Our boats are purpose-built Newton dive and snorkel vessels designed and built for Grand Cayman diving with no detail overlooked. Our dive team are true professionals~ highly qualified, patient, personable and have a passion for diving. We believe in small groups and big boats, so we limit the numbers to give excellent service, both in and out of the water.
We have both been lucky enough to live on and dive all three Cayman Islands and have made our home here on Grand Cayman. We love exploring the reefs, teaching new divers, continuing dive education and showing our guests the stunning natural beauty of the Cayman Islands. We are committed to providing unsurpassed customer service and will do all that we can to ensure you have a positive experience and make unforgettable memories.