Stingray City Scuba Diving
The Cayman Islands are lucky to have a naturally occurring area in the North Sound of Grand Cayman that is home to the amazing Southern Stingray. Here, we are able to interact with these amazing creatures in their natural habitat. This is a Cayman "must do" and is an unforgettable experience! There are 2 different Stingray City spots that are approximately 3 miles apart.
Stingray City Sandbar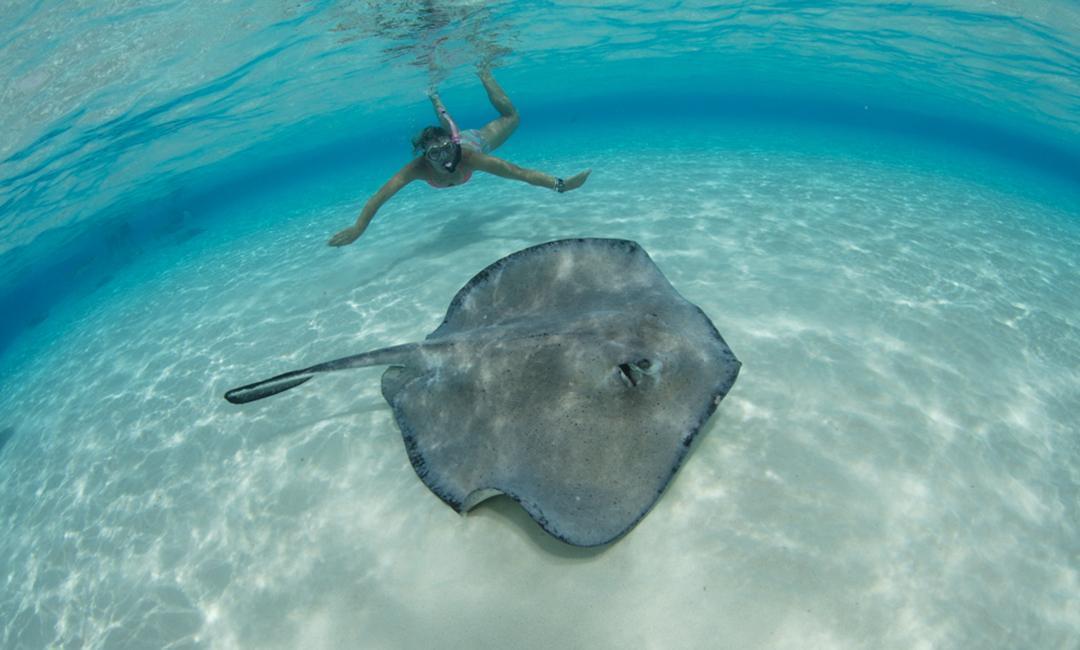 After a short boat ride to this naturally occurring sand bar in Cayman's north sound, we give you a full interactive briefing about the Southern Stingrays. In crystal clear, waist deep water on white powder sand, we stand up while the gentle Southern Stingrays swim all around us. The warm, turquoise water is very shallow, making it perfect for all ages and abilities. The stingrays will gently pass by as they look for food and we are able to pet them, hold them and even kiss a stingray! If your confidence is not up to standing in the water, just sit on the back platform of the boat while we gently bring one to you. NO PRESSURE is our motto! No matter what your confidence level, you will have memories like no other.
Scuba Diving in Stingray City
This is quite simply the world's best 12 ft dive! Stingray City dive site is a unique and an unforgettable experience. Located just inside the barrier reef in the Northsound, the shallow water is home to the original Stingray City site. We give a detailed briefing of the Southern Stingrays, how they came to be here and what to expect on the dive. Once we enter the water, we sit on the bottom in a semi circle while the rays swim all around us, over our heads, looking for food. We interact with the rays, feeding them their favorite food- squid! There are a lot of tropical fish who are there for some free food as well as stunning shallow coral heads that we explore. This site is teeming with life and it is amazing to see the rays in their natural habitat. Our Stingray City dive is done as a 1 tank afternoon dive to avoid crowds and can be scheduled to suit your agenda as well as incorporated into a customized Private Charter.