We have the best boats and equipment but the most important part of what we do is the crew who represent us everyday. We are extremely lucky to have a team of passionate, kind and friendly crew. When diving with us, you will receive the safest, most comfortable dive trips available on Grand Cayman. Join us onboard and enjoy the local knowledge and dive skills of this incredible team.
Our crew love what they do and are unmatched in their patience, understanding, professionalism, friendly banter and above all, their dedication to safety. By choosing a team of highly qualified PADI professionals that share these qualities together with their love of diving, we are able to provide our customers with a world class product.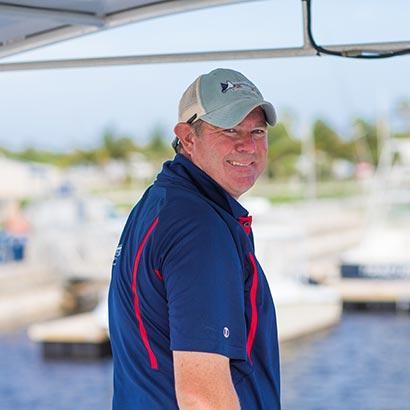 Christian
Originally from the south west coast of England, Christian has been in the service industry his entire life. Christian started out in the night club industry of a British seaside town. In his early 20's he got the travel bug.
Read More
So he quit his job, bought a round the world ticket and began his adventure. Christian's Cayman time started in 2004 on Cayman Brac. This was his school for the dive industry completing his dive master and instructor certifications. After this he went on to work in the BVI's and Turks and Caicos returning to Grand Cayman in 2008 where he has made his home. Christian spent 8 years in dive ops management on island before joining us as our team leader in 2016. His credentials are as long as they are impressive. There is not a single area of recreational and technical diving that Christian hasn't dipped his toe in. This gives Living The Dream Divers and incredible depth of experience and knowledge. Onboard he'll keep you smiling with a laid back, kind and funny persona.
Read Less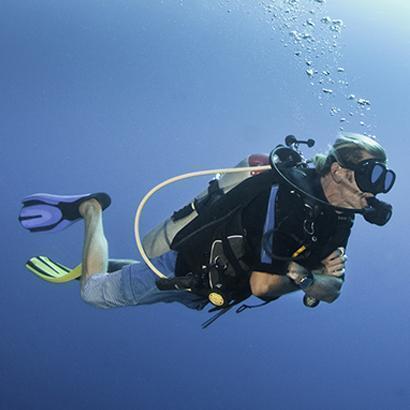 Scott "Happy" Hartwell
Scott started life in the UK as an accountant! On one particularly drab British day he decided to toss the suit and tie away, pack his bag and head for warmth. His love of diving and easy going gentle manor make him an awesome dive instructor.
Read More
Scott completed his instructor in 2004 in South Africa where he crashed through heavy surf and avoided great white sharks. Scott's first taste of the Caribbean was working in the BVI's and Barbados. He came to Grand Cayman in early 2010 and has been a teaching machine since joining LTD in September. As a PADI Master Scuba Diver Trainer he is passionate about showing people the underwater world and helping them to become awesome divers. Scott has a great personal story about how he came to live in the islands which will entertain you during your surface interval. oh yeah and ask to see his passport photo!!!
Read Less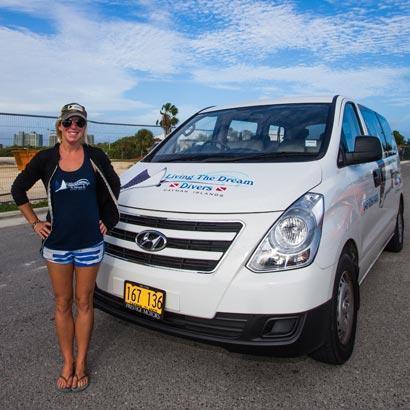 Courtney Criswell
Energy and a love of fish is the best way to sum up this little lady. She was born and grew up in Akansas and thats pronounced Ar-can-sol and she likes to tell us. At the same time as she got her formal education, a degree in English.
Read More
Courtney started to dive in her home town. Not much to see in the land locked state but that didn't stop her passion from growing. Diving in the lakes and quarries of Arkansas would put most people off diving for life. Not Courtney, she did her Rescue, Dive Master and instructor course in the low viz and cold water. She has a wide ranging CV a barista at Starbucks, Apple Store Geek desk, Sold candy floss at he fair! Then she found Grand Cayman and has made this her home. With over seven years dive experience in Grand Cayman she knows every little corner of our beautiful reefs. Courtney loves to talk little critters and is a great resource for tips on underwater photography.
Read Less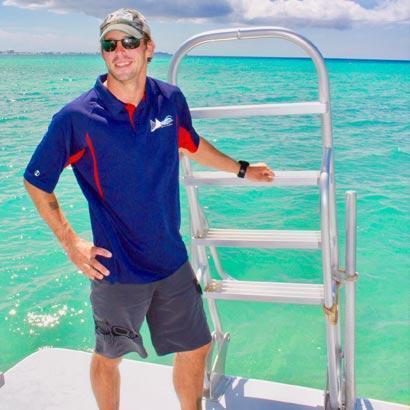 Ty Neiser
Our West Coast Canadian has many years experience working in the Cayman Islands dive industry. From Ty's first breath under Cayman's warm waters in 2010 he knew this was home.
Read More
Having worked for one of the original dive centers for many years Ty moved to the Cayman Aggressor liveaboard. A year of sea time was the perfect training ground for his boat driving. At Living The Dream Divers you will see Ty driving all of our boats but his favorite lady is Our Boat Too. Ty is a PADI Master Scuba Diver Trainer with many specialties under his weight belt. Ask Ty for his favorite dive in Cayman and he will say the one I am doing next. In the water he gives calm and interesting tours of Cayman's stunning reefs. With as much bubble time as he has you will feel in safe and competent hands.
Read Less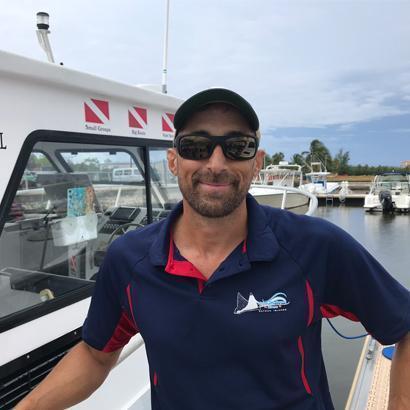 Richard Snow
Rich grew up with the ocean in his blood. His life has been full of boats and water. As a boy he would spend hours sailing in the UK with his Granddad. Then his life lead him on what we call a normal path.
Read More
Richard left collage and joined the office life working for Goldman Sacks in London. Then one day he decided that he couldn't spend his life in an office dreaming, he wanted to travel and live his dream. As a avid climber, a sailor, scuba instructor with a love for some people the amazing work he lives in Rich was a natural traveller and guide. He has been to Thailand, Egypt, Philippines, Maurius and tiny island of Niue where is was a whale watching guide! As you would expect from a sailor Richard has many stories of his travels and his kind manor will be certain to relax you and make you feel at ease. Richard is a passionate lover of the fish, corals and the environment they live in. He has an amazing depth of knowledge about the marine creatures you will see and is happy to share his knowledge on surface intervals.
Read Less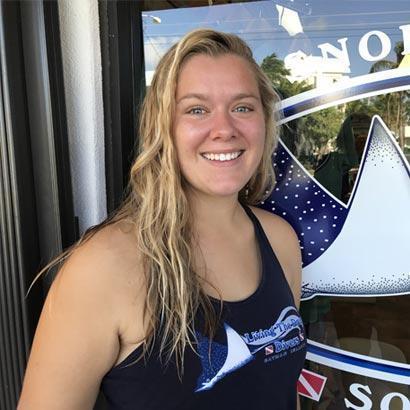 Sydney Darrow
As a born and raised Texan, Sydney has always had a need for adventure. Growing up in a family of divers, it was never hard to find.
Read More
After years of hearing stories and looking at pictures from her parents' many dive adventures, Sydney knew it was something she had to try. Ever since her first dive when she was 13 she's been in love with the underwater world.
After she graduated from the University of South Carolina, that need for adventure was back again. Not quite ready for corporate adulthood, Sydney instead decided to run away to the beach and pursue her favorite hobby full time.
Now Sydney is living the dream as a PADI Master Scuba Diver Trainer, and loves getting to spend every day introducing new people to the wonderful world of diving! Onboard, Sydney's laid back attitude and bubbly personality will help make the incredible experience of diving in Cayman even better!
Read Less
Maui
Our dive dog joined the family in December 2010! Born on a working farm in the north of England, Maui is a pure breed British Chocolate Lab who comes from a long line of winning dogs. He stole our hearts and some shoes!!! and totally loves the water.
Read More
He doesn't join us on our dive trips but he is our loyal shore support and is often in the bus when we are picking people up, or waiting on the dock or in the dive shop with his tail wagging as he sees Our Boats and divers coming back in from an awesome Cayman Diving trip.
Read Less