Yesterday Cayman saw it's third Nor-wester in as many weeks! The waves were crashing over the sea wall in George Town. The main road through the center was closed for safety.
Seven mile beach saw huge waves and there was some very minor damage to docks and sea walls. The sky was blue, blue, blue and the temperature was hot! So it wasn't a bad day just some amazing waves.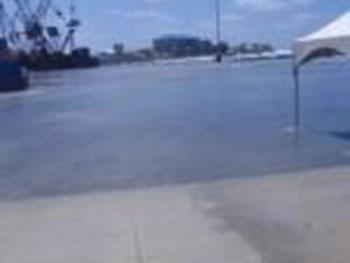 This picture on the right is of the port authority car park that has been flooded with sea water. Today we were diving on the south side of the island were flat calm seas and clear skies meant it was a great day to hunt for lion fish! After the diving we hit the road and headed out to Rum Point, where the conditions were perfect for relaxing on a beach chair and reading a book. Today the wind was coming from the South East so it gave the west side a chance to calm down. We are expecting to have great weather over the week end so we will be grill n chilling in the north sound. Rum point same day!

Gary is a PADI Master Instructor and an RYA 200 ton Off Shore. Having worked all over the world as a dive instructor and boat captain. He has spent the last 20 year based in the Cayman Islands. Together with his wife Liz they have built the number one scuba diving operation in the Caribbean.