We have an exciting update on one of Grand Cayman's most popular dive sites. The Kittiwake wreck now lays on her side. We were extremely lucky this hurricane season as none of the named storms hit our beautiful island. In September 2017, Hurricane Nate passed the island by over 350 miles. Being this far from the island we had no affects from wind or rain. However, the power of this storm sent huge waves to the west side of Grand Cayman. The island had no damaged and we dived the North Wall as the storm moved into the gulf. The only affect was to the Kittiwake dive.
The Kittwake used to site upright in a max depth of 65f and the shallowest part being about 15ftt. She now lays on her port side at a 90 degree angle. Her new max depth is about 75ft with a minimum of 45ft. This has given us an almost completely new dive to explore and enjoy. We used to schedule the Kittiwake as the second dive of our two tank dive trip. Wit the new depth we have changed this dive to the first dive of our trip. We have also had to change the amount of penetration due to the limited light and extreme angle of the ship.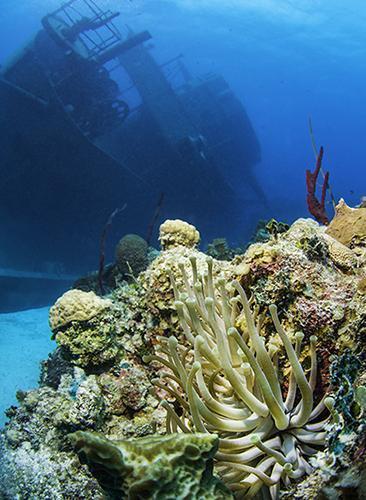 After the wreck moved the Cayman Islands government closed the wreck. They sent a team of trained divers to survey the new site and make sure it was safe for divers. They removed any debris that came loose during the move. They also checked every compartment and room to assure that nothing was dangerous or could course a hazard in the future. In October 2017 the Kittiwake was officially reopened to divers. We have enjoy many dives to the wreck and are loving having a new dive site to explore.
One of the many amazing things about artificial reefs in particular wrecks is watching them change as mother nature shapes them with weather and aging. This is not the first time the Kittwake has moved and I am sure we will get to enjoy her as she continues to evolve and grow as this stunning dive site.
If you are heading to Grand Cayman and want to explore the Kittwake as one of your dives please let Liz know during the reservation process. We only dive the Kittiwake when requested and the more notice you give us the easier it for us the plan the trip. If you have dived the Kittiwake before its time to jump in and see how she has changed.

Gary is a PADI Master Instructor and an RYA 200 ton Off Shore. Having worked all over the world as a dive instructor and boat captain. He has spent the last 20 year based in the Cayman Islands. Together with his wife Liz they have built the number one scuba diving operation in the Caribbean.